A Hydrafacial treatment can be suitable for everyone
Hydrafacial treatment is more than a facial. It uses patented technology to cleanse, extract and hydrate your skin. It involves lymphatic massage, exfoliation, peel and extraction, infusion and hydration – all in one treatment!
Hydrafacial is one of the most popular facials on the market today and a firm favourite with celebrities including Beyoncé, Kate Winslet and Britney Spears. It is suitable for all skin types and can be personalised for targeted results. Hydrafacial is perfect for treating all skin concerns such as fine lines and wrinkles, acne, pigmentation and redness. It provides relaxing resurfacing and long lasting hydration with immediate radiant results every time.
All skin deserves a healthy skincare regime and our nurse consultant and skincare specialist can advise you on how best to care for and treat your skin. Hydrafacials are recommended monthly, and we offer 6 month packages which includes a complimentary Hydrafacial and a ZO Skin Health product.
Hydrafacial Cost
from £190
Platinum Hydrafacial:
Platinum Hydrafacial is a 6 stage mega-facial:
DETOX The most relaxing part of the facial, the lymphatic drainage stage gently opens the thoracic nodes and, with a soft suction cup, drains toxins from the primary nodes of the face. This improves circulation of the lymphatic system, decreases inflammation and helps eliminate toxins.
CLEANSE AND PEEL Deep cleanse and exfoliate with Glucosamine HCL, Lactic acid, Sodium Lactate and botanical cleansers, using Hydrafacial's patented vortex technology, to lift away the dead layers of skin for gentle skin resurfacing. Following this, we apply a glycolic peel for a chemical exfoliation to brighten, rejuvenate and soften the pores ready for extraction.
EXTRACT AND HYDRATE Extraction using vortex technology and botanical ingredients such as Willow Bark extract and Spirea Ulmana extract to lift away blackheads, blocked pores, oil and congestion, whilst infusing nourishing moisturisers that quench the skin.
FUSE AND PROTECT Using a cocktail of antioxidants including White Tea extract, Horse Chestnut extract, Vitamin A and E, Hyaluronic acid and peptides to hydrate, protect and maximise the skins glow.
REJUVENATE Red and infrared LED lights to reduce redness and further stimulate collagen, supporting the natural production of Vitamin D. Blue LED lights are used for congested skin to help destroy P-bacteria acne to calm active acne.
PROTECT Additional skincare products are applied to further hydrate and rejuvenate the skin followed by an environmental protection.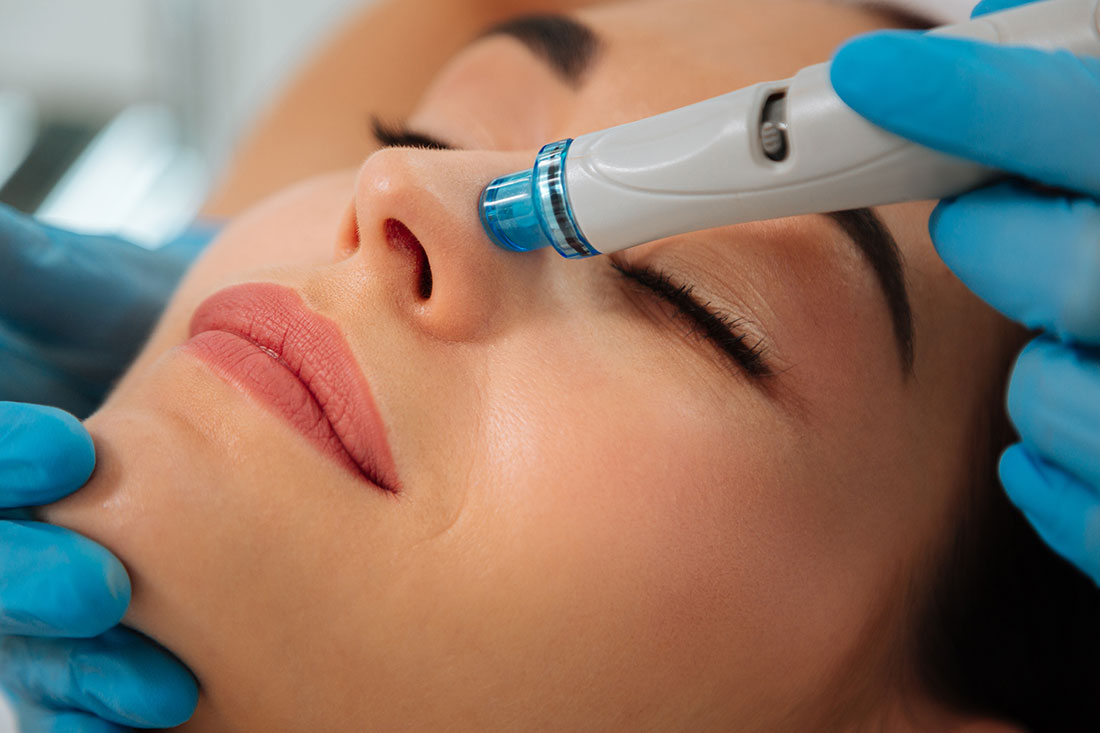 Our LASE signature Hydrafacials are unique, medical-based treatments using prescription-only pharmaceutical-grade products for the ultimate results. All patients are assessed and prescribed for by our nurse consultant and skincare specialist, creating a personalised plan to achieving beautiful, radiant and healthy skin.
LASE Signature Brightening Hydrafacial:
All the benefits of a Platinum Hydrafacial plus this upgraded facial incorporates the world-leading ZO Skin Health cleansers, exfoliators and brightening products plus an additional brightening skin booster to fade pigmented areas. And if that wasn't enough, we finish with super-charged ZO Skin  Health accelerated brightening serum specifically formulated to dramatically boost and improve results.
LASE Signature ZO Anti-aging Hydrafacial:
All the benefits of a Platinum Hydrafacial plus this upgraded facial incorporates the world-leading ZO Skin Health skincare range. These powerful, pharmaceutical-grade products stimulate collagen and elastin to restore and firm the skin. We also incorporate a Dermabuilder skin booster to smooth and refine fine lines and wrinkles. We then finish with super-charged ZO Skin Health accelerated firming serum specifically formulated to dramatically boost and improve post-treatment results.
LASE Signature Acne Control Hydrafacial:
In addition to the full Platinum Hydrafacial, our Acne Control Hydrafacial incorporates prescription-only acne products by the world-leading ZO Skin Health skincare range. The ultra deep cleanse and exfoliation is optimised by an additional strength glycolic peel that dislodges and removes impurities. Blue LED light therapy is used to elevates results and disrupt P. Acne's bacteria and improve the appearance of oily and congested skin. We then finish with a potent layering of acne control and hydrating skincare products for the ultimate treatment.
Hydrafacial Experience:
Includes a skincare consultation, a LASE Signature Hydrafacial and a take-home skincare program.
Frequently Asked Questions
Please read the frequently asked questions below which may answer any queries or ease any concerns you may have.
Who is Hydrafacial suitable for?
Hydrafacial is suitable for everyone, regardless of age, skin type or specific skin needs. Hydrafacial is designed to improve skin health in healthy, clear skin. It is also extremely effective in treatment protocols for acne, rosacea, ageing skin and hyperpigmentation.
If you have any concerns regarding skin texture, tone and elasticity. Or if you have age spots, oily or congested skin or enlarged pores then Hydrafacial is for you.
Visit LASE Cosmetic and our Hydrafacial specialist will tailor-make the treatment to suit your individual needs.
Is there any discomfort with a Hydrafacial treatment?
No, some patients report the treatment can feel a little 'scratchy' during the exfoliation stages but there is no pain.
Is there any downtime?
No, there is no downtime with Hydrafacial. Immediately after the treatment, your skin will glow and look super-healthy. Most patients prefer not to wear make-up on the day of the treatment, but there are no rules to say you can't. You may wish to resume your normal activities immediately after the treatment.
How long do the results last?
Your skin will benefit from increased hydration and improved overall texture and tone for approximately 7-10 days following the treatment. After your treatment, your skin will inevitably develop a build-up of debris, dirt and dead skin cells.
We recommend a monthly treatment to deep clean, rejuvenate and maintain optimum results. We have packages available for 6 or 12 months, including a range of Hydrafacial treatments. We also supply skincare products, exclusively from our premium ZO skin health range.
How many treatments are needed to see results?
You will see an immediate improvement in your skin after just one treatment. Specific skin concerns may require several visits to address, and for optimum continued results, regular monthly sessions are recommended.
How long does the treatment take?
Our goal is to help support you in a balanced lifestyle. That's why HydraFacial is a fast, efficient treatment that takes as little as 30 minutes. You may put on makeup and return to your normal activities right after the treatment since there is no downtime.
Is it clinically proven to work?
Yes. A number of clinical trials into the use of hydradermabrasion and the associated application of antioxidant serums, both as a stand-alone treatment and in conjunction with other non-surgical skin rejuvenation procedures, such as Intense Pulsed Light (IPL), have been carried out by Physicians.
One study in America, used 20 volunteers being split into two groups, with one group having six hydradermabrasion treatments using the mechanically applied antioxidant serum, spaced 7 – 10 days apart, and the other group simply had the serum applied manually, again for six treatments spaced 7 – 10 days apart. Results were gathered two weeks after the final treatment and these showed that the group treated with hydradermabrasion demonstrated increased thickness in the skin layers, with the deposition of new collagen fibres and increased levels of antioxidants in the skin. Fine lines, pore size and hyperpigmentation were also decreased following treatment.
The other group showed no change in skin structure, clinical attributes (such as wrinkling, hyperpigmentation etc.) or antioxidant levels. It was therefore concluded the Hydrafacial™ treatment effectively improved skin quality and increased the antioxidant levels present in the skin, whilst the lack of an abrasion element and a manual application of antioxidants did not result in detectable skin changes.
Where can I get more information?
We would be delighted to meet you to provide you with your hydrafacial in Newcastle. To discuss your personal needs and receive your comprehensive skin assessment and tailored treatment plan. Please contact us if you wish to request a consultation.
Is HydraFacial safe for sensitive skin?
In most cases yes hydrafacial is safe for sensitive skin. We conduct a consultation before treatment for a new patient and assess their medical history and any skin sensitivities. Only then do we consider offering treatment, which can be adjusted to avoid such concerns.
Does HydraFacial tighten skin?
Immediately after treatment the skin can feel tighter, but this is not a specific effect of HydraFacial. The treatment is intended to cleanse the skin and rejuvenate it with various preparations such as peels and moisturisers. Peels in particular can make the skin feel tighter, but this should not be considered equivalent to a formal skin tightening procedure.
What to do after HydraFacial?
The wonderful thing about HydraFacial is there is very little aftercare to worry about. Patients often attend for treatment the afternoon of a night out to maximise the skin looking fresh and healthy, any redness that occurs (for instance from the exfoliating and extraction phases) usually settles approximately an hour after the treatment.